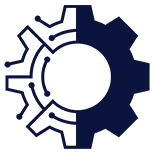 Overview
InterOp.Community, is an emerging collaboration to advance the healthcare interoperability agenda via the use of open platforms and open-source software. InterOp.Community will serve as a technology incubator to advance global and interoperable health solutions by providing standards driven interfaces for the common components found in modern healthcare systems such as Electronic Health Record (EHR), hospital, Health Information Exchange (HIE), lab, and insurer.
The Interoperability Institute (IOI) is joining forces with Integrating the Healthcare Enterprise (IHE) USA, Interopion and Red Hat to provide this unique environment. Using InterOp.Community as an industry convergence point and incubator, IOI will both invest in the collaboration and draw from it to mature its original InteroperabilityLand™ offering.
For more information, reference the Interop.Community One Pager, Meld One Pager and visit the InterOp Community site.
---
"We welcome others that share this enthusiasm for openness, transparency, trust, and eagerness to join this effort as co-equals to build upon and advance this community asset."
- Mary Kratz, Executive Vice President of Interoperability Institute